Typical Log Package Material and Components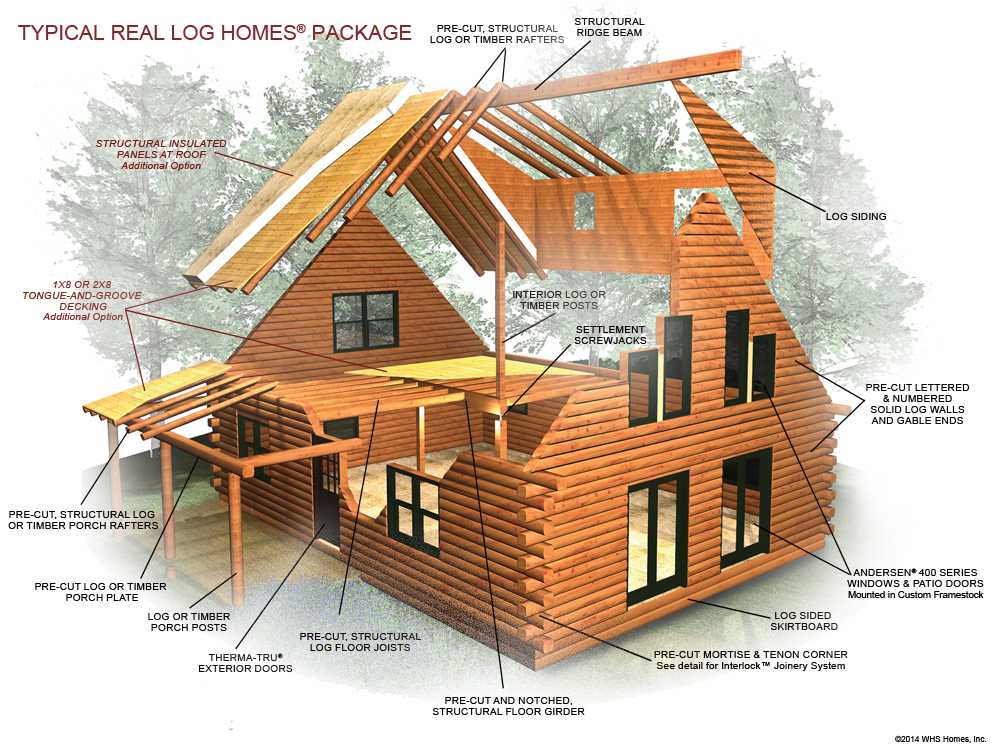 SOLID LOG WALLS
All logs are pre-cut, lettered, and numbered for placement in the walls and solid log gable ends, per plan. You may choose from several different styles of logs, including Interlocking Mortise and Tenon, Contemporary Square, Swedish Cope, or Dovetail corner styles.
INTERLOCKTM JOINERY SYSTEM
All log profiles, except Swedish Cope, feature the InterlockTM log joinery sys- tem designed exclusively for Real Log Homes®. Swedish Cope corner styles combine precision pre-cutting with PVC LocksplineTM, Norton Foam, and other effective materials to assure a precise fit. The following materials are provided with every standard model:
PVC LocksplineTM at all window and door openings, corners, and butt joints
FastenMaster OlyLog® or LogHog® fasteners per plan
Norton Log Home FoamTM V-790 Gasket
Special milled framestock, pre-cut for accommodation around windows and doors that provides the connection to the ends of the logs at the openings
Pre-Cut Interlock Corner
Sashco® Log Builder caulk
Foam blocks and pre-installed corrugated fasteners to seal the baffle and channel at the corner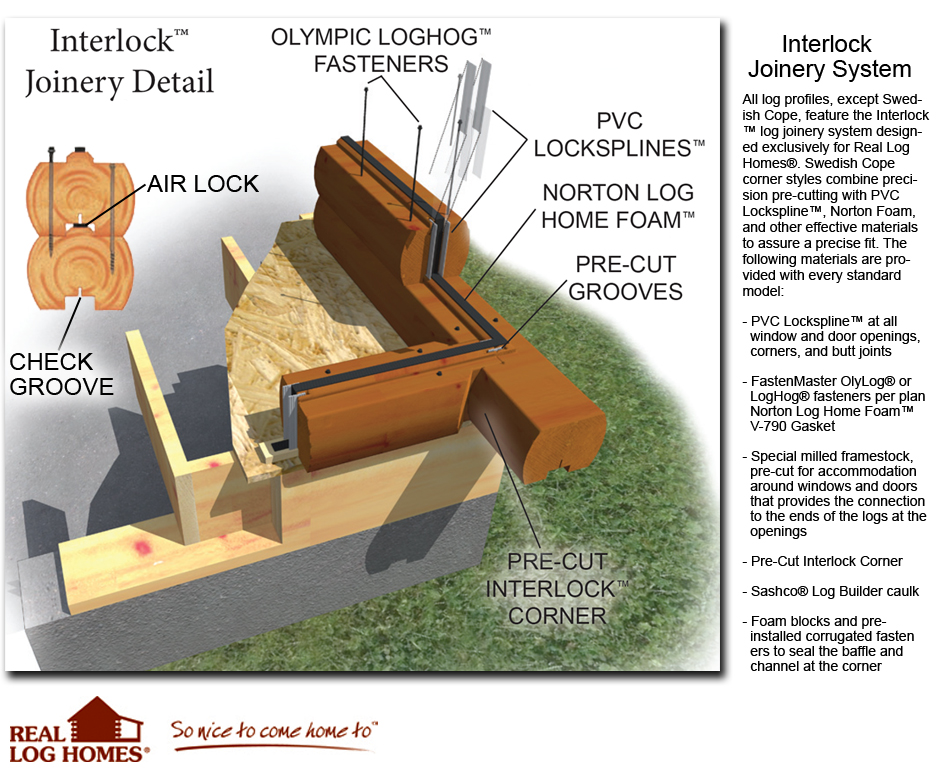 WINDOWS AND PATIO DOORS
Andersen® 400 Series Windows and Patio Doors are supplied with Ter- ratone exterior, High Performance (Low-E) glass, Terratone screens, stone hardware, and natural clear pine interior. Special colors, glazings, hardware, and wood grilles are available.
Velux® Roof Windows and Skylights are supplied per plan with tempered, Low-E, insulated glazing (Type 75), EDL step flashing kits, and telescopic 6 ft. to 10 ft. manual control rod standard for venting units. Sunscreening accessories and electric control options are available.
EXTERIOR DOORS
Therma-Tru® Fiber-Classic Doors are supplied pre-hung with stain-quality jambs and exterior casing. Insulated glazing, weather stripping, and a bronze anodized sill with adjustable oak strip are standard.
SIDING
Log siding to match the log wall is provided to cover the edge of the first floor under the first course of the log (except Swedish Cope) and:
For the exterior of framed walls for dormers, per plan
For the exteriors of framed and trussed gable ends, per plan
For interiors of framed gable ends in cathedral areas, per plan
FLOOR JOISTS
Pre-cut, structural round log or timber joists, per plan, for upper floor sys- tems, including pre-notching for assembly into the log wall and fasteners for the connections. Optional pre-cut 4X or 6X timbers are available for joists.
FLOOR GIRDERS
Pre-cut and notched, structural Douglas fir 12' by 12' timber girders to sup- port interior ends of the joists are supplied, per plan.
ROOF RAFTERS
Pre-cut, structural log or timber rafters, per plan, for gable roof systems, including pre-notching to connect over the log wall and ridge and fasteners for the connections. Gambrel-style roof system is standard with 4X timbers for rafters, purlins, collar ties, and ridge.
RIDGE BEAM
Structural ridge beams to support ends of rafters are supplied, per plan. This beam allows the load to be carried by all four walls, yielding more open and flexible floor plans.
INTERIOR POSTS
Interior posts are supplied to support upper floor girders and roof beams, per plan.
Log or timber posts available in open, visual locations
Square timbers where partially or fully obscured from view by interior partitions, cabinets, etc.
Screwjacks at interior posts allow for adjustment as the log wall settles
PORCHES
Most log porches, per plan, are provided with pre-cut log rafters, including fasteners for the connections. All porches include:
Pre-cut log porch plates (matching the log style) to support porch rafters
Full log porch posts to support the log plates
WOOD PRESERVATIVE
All our logs, except cedar, are treated with AMICALTM Flowable and Tim- Bor®, an EPA-registered, non-toxic wood preservative, which inhibits mildew, decay, and insect infestations. For effective penetration, bundles of pre-cut logs are immersed in an AMICALTM Flowable and Tim-Bor® solution, allowing the preservative to soak into the wood. We recommend an exterior maintenance program of periodic applications of a high-quality exterior finish to keep your home protected. Properly maintained with an exterior treatment, the benefits of Tim-Bor® are permanent.
COMPREHENSIVE TECHNICAL SUPPORT
To facilitate the construction of your home, each package includes:
3 sets of blueprints of your REAL Log Home using Computer- Aided Design (CAD) systems
Easy-to-read assembly details
Pre-cut log wall assembly instructions
Complete list of materials included in the package
206 page Construction Manual including assembly and detail photos
Four hours of complimentary technical assistance on the construction site by your Independent Representative
IMPORTANT NOTES: The Standard Materials Package will vary depending on the features of a particular home or options selected by the customer. Certain of the components listed above are provided per plan; that is, only if they are specifically called for in your plan. See your REAl lOg HOMES Independent Repre- sentative for details. Check with your Independent Representative for an explanation of the many available options for each design.